Sattal or Sat Tal (Hindi for "seven lakes") is an interconnected group of seven freshwater lakes situated in the Lower Himalayan Range near Bhimtal, a town of the Nainital district in Uttarakhand, India. The lakes sit at an altitude of 1370 metres below lush orchards in the Mehragaon valley. Set amongst dense forests of oak and pine trees, Sattal is one of the few unspoiled and unpolluted freshwater biomes in India. These lakes are a paradise for migratory birds. It is home to a few camps being operated mostly by local people catering to tourists looking for outdoor vacations. In Sattal birding package by jungletrail.in, you can witness some beautiful and unique species of birds.
15 Kilometers further from Nainital lies Pangot, another attraction of the area with approx 300 species of Birds. Summers are filled with breezy days and the sight of snow-capped mountains that gives you the feel of Himalayas. The journey from Sattal to Pangot is a sight to behold in itself.
Let's Go Birding ! – Go For Sattal Birding Tour
Let Jungle Trail customize your sattal birding tour packages as per your preferences. Generally with Sattal trip we cover Chanfi Day Trip and an overnight  stay at Pangot. In all, your Trip to Sattal should consist of at least 5 nights to give you 4 complete days of Birding (Bird Watching). 2 Days at Sattal, 1 Day at Chanfi and 1 Day at Pangot. A combine birding tour of Pangot-Sattal is appropriate for best bird watching experience for wildlife enthusiasts.
Day 1
Trip Starts from Delhi. It takes around 6 to 7 Hours to reach Sattal. Check in to your Hotel and rest of the day is free and relax. Only Dinner Included.
Day 2
We start our Birding at Sattal and we spent entire day at Various Birding Locations in Sattal. Breakfast, Lunch and Dinner Included.
Day 3
Early Morning Birding at Sattal. Post Brunch we head to Chanfi. Evening we drive to Pangot. Overnight at Pangot. Brunch and Dinner Included.
Day 4
Entire Day Birding at Pangot. Evening we drive back to Sattal. All Meals Included
Day 5
At Sattal. We spent entire day at various birding locations in Sattal. All Meals Included
Day 6
Early Morning around 6.30 am we check out from Sattal to drive back to Delhi to take our flights or train back home. No Meals included on this Day.
All our Sattal Birding Packages are created and designed with minute details of the theme and with the goal of a rich travel experience.  Our Tie-ups with good comfortable properties never leave room for any worry with respect to your accommodations. From Budget Accommodation to Luxury Cottages, we can get you as per your requirements.
Most Important is your Birding Guide throughout the Trip. All our Sattal Birding Tour Packages would include the services of the Expert Birding Guide present throughout the trip to give you the lifetime experience.
Best Time to Visit Sattal
The best time to visit is from October to June, though birdwatchers should plan their trips between December-January, when the bird activity is excellent, or around April-May, when most of the birds display their breeding plumage.
Different species are sighted in different seasons – winter is the best time to see Upper Himalayan birds, which migrate to Sattal during the cooler months. You might get to experience snowfall in Pangot if you visit in January. Temperatures in winter range from 0-24°C; in summer, from 10-30°C.
Sattal experiences quite a pleasant and enjoyable weather during summers. The place is warm in a comfortable way and evenings are cool. Light woollens will suffice during the season. The winter season is freezing cold but the views it offers are simply breathtaking. Carry heavy woollens if travelling during the winters. The place is almost blushing in fresh and vibrant colours during and after the monsoon but is prone to heavy rain falls.
Sattal's summer season stretches from April to June. The temperature varies from 15 degrees Celsius to as hot as 30 degrees Celsius. A lot of tourists come during the summer season. Especially during the month of May, when the children have their summer vacations, you can see a large number of families coming here.
The winter season of Sattal begins in November and stretches to late February. It is a great time for trekkers, as the snow-covered roads make up for a perfect adventure.
By Rail
The nearest railhead is Kathgodam (27km; 45 minutes away). Ramnagar is also an option (40km; 45 minutes away).
By Air
The nearest airport is in Pantnagar (61km; 2 hours away). Another option is Dehradun (260km; 5.5 hours away). Another options is , Indira Gandhi International Airport (Delhi), located at a distance of 268 km. From the airport, one can find private taxis and cabs for hire. Or One can take a Train from Delhi to Khatgodam.
By Road
Sattal is a seven-hour journey (306km) from New Delhi by road, via Haldwani and Bhimtal. It is 27km from Nainital. Pangot is approximately a two-hour drive (55km) from Sattal, via Nainital. Enroute, you should stop at Snow View Point and Kilbury.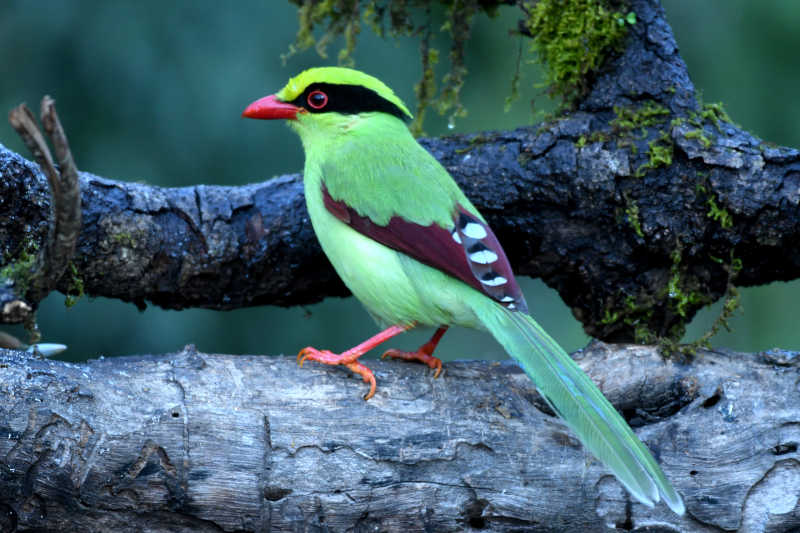 The lake has an altitude of 1370 metres. Sattal is unique for its biodiversity and ecological amplitude. It has 150 species of resident and migratory birds, 20 species of mammals, over 525 species of butterflies and over 11,000 species of moths, beetles, bugs and other insects. A combine tour of Pangot-Sattal is appropriate for best birding experience.
Pangot is located about 15 kilometers from Nainital, which is a popular hill station. The drive to here passes through the forested area of Cheena Peak Range via Snow View Point and Kilbury, which are birding spots. The main attraction of Pangot are its birds; around 200 bird species have been recorded in this area. One can see a variety of Himalayan species Himalayan griffon, blue-winged minla, spotted & slaty-backed forktail, rufous-bellied woodpecker, rufous-bellied niltava, khalij pheasant, variety of thrushes etc. Almost 150 bird species have been recorded at Pangot and the surrounding areas.
If you are a Solo Traveler or If you wish to travel in a group along with like minded travelers, we do have fixed departure trails. Please click here to check out our Trail Calendar for the year.