Keoladeo National Park or Keoladeo Ghana National Park formerly known as the Bharatpur Bird Sanctuary in Bharatpur, Rajasthan, India is a famous avifauna sanctuary that hosts thousands of birds, especially during the winter season. Over 230 species of birds are known to be resident. It was declared a protected sanctuary in 1971. It is also a World Heritage Site. Every year thousands of migratory birds/ waterfowl visit the park for wintering and breeding.
The climate in Bharatpur ranges from hot in summer to cold in winter. During summers (April- June), the temperature ranges from 38 ° C to 45°C.
The onset of monsoon (July-August) lowers the temperature to about 27°C, with the Relative Humidity being 70-75 % during this period.
Winter season (October-March) peaks after Christmas with temperatures falling below 10°C. Ground fog in the winter persists rather erratically on unspecified periods in January.
Bharatpur Wildlife Sanctuary or the Keoladeo Ghana National Park is open throughout the year;  the best  time to visit Bharatpur Bird Sanctuary, a UNESCO World Heritage Site, is from October till March for this is when the migratory birds from around the globe could be spotted here.
By Rail
Bharatpur Junction, at a distance of 5 km is the closest railway station to the bird sanctuary. However Mathura is most preferred railway station as Mathura being a Junction is very well connected to major cities.
By Air
The nearest airport to the National Park is Jaipur airport at a distance of 190 km
By Road
Bharatpur is well connected by roads from all major neighbouring locations.
These diverse habitats are home to 366 bird species, 379 floral species, 50 species of fish, 13 species of snakes, 5 species of lizards, 7 amphibian species, 7 turtle species and a variety of other invertebrates. Every year thousands of migratory waterfowl visit the park for wintering and breeding. The sanctuary is one of the richest bird areas in the world and is known for nesting of resident birds and visiting migratory birds including water birds.
The Park's location in the Gangetic Plain makes it an unrivalled breeding site for herons, storks and cormorants, and an important wintering ground for large number of migrant ducks. The most common waterfowl are gadwall, shovler, common teal, tufted duck, know billed duck, little cormorant, great cormorant, Indian shag, ruff, painted stork, white spoonbill, Asian open billed stork, oriental ibis, darter, common sandpiper, wood sandpiper and green sandpiper. The sarus crane, with its spectacular courtship dance, is also found here.
Birds present include warblers, babblers, bee eaters, bulbuls, buntings, chat, painted francolins and quails, Indian grey hornbill and Marshall's iora. Raptors include osprey, peregrine falcon, Pallas sea eagle, sort toed eagle, tawny eagle, imperial eagle, spotted eagle and crested serpent eagle. The greater spotted eagle has recently been recorded breeding here, a new breeding record for the species in India.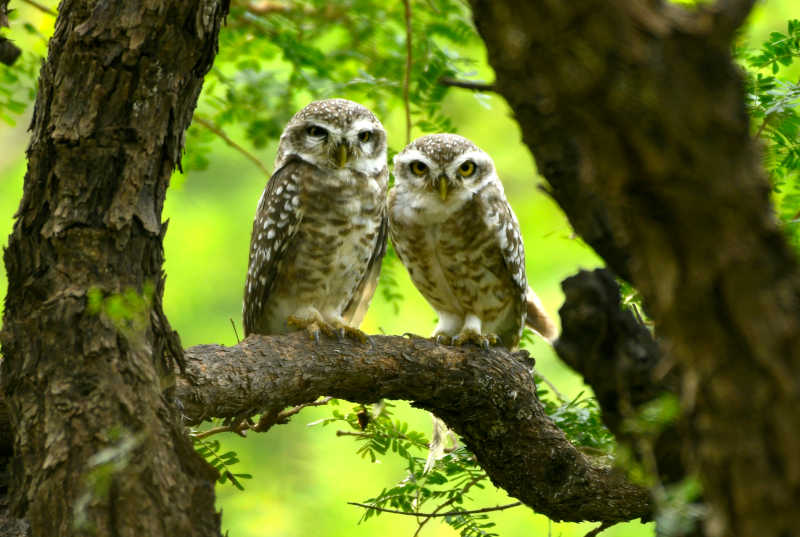 At JungleTrail,  we customise your packages as per your requirements. Generally, 2 or 3 nights package would be ideal to explore the entire forest and have the best wildlife experiences. There are 2 jungle safaris in a day. One starts early morning and the other in the afternoon. All our packages includes transfers from the nearest railway station or the airport, stay with all meals and jungle safaris as per the plan. Kindly fill in the form on the page with your requirements and we shall get back to you with a complete Itinerary designed for you. 
If you are a Solo Traveler or If you wish to travel in a group along with like minded travelers, we do have fixed departure trails. Please click here to check out our Trail Calendar for the year.