Famous Tigers of Pench National Park
The beautiful Pench National Park is set in a flourishing teak jungle, which is home to various deer species, tiger and leopard. A spectacular natural reserve, set among typical central Indian teak jungle, Pench National Park offers a quiet and secluded game viewing experience. Some of the Famous Tigers of Pench are Collarwali, Langdi, Patdev, Rayakasa, L Mark, Baghinala Female , BMW Male, Tarzan Male and few others.
Pench is known for its most famous Tigress Collarwali – T15
Collarwali (meaning one who has a collar in Hindi)- This tigress once had a collar on her neck but as of now (2021) it is broken and can't be seen on her neck anymore. Her enumerated code name is T-15 as given by the Forest Department. She was born in 2005 to another famous tigress Badi Mada (Great Mother) when she had mated with one of the most legendary male tigers of Pench – Charger or T1.
She was part of a litter of 4 tigers (2 female and 2 male). Collarwali was the first of Badimada's four cubs to set out on her own and establish her territory in the prime area of her mother's range.
She, today is the most famous tigress in Pench and is a darling of wildlife enthusiasts and photographers. She is not at all afraid of humans and safari vehicles, and once sighted will most possibly grant very good photographic opportunities. Perhaps her fondness for the camera is because, right from her birth, she has always been in the limelight.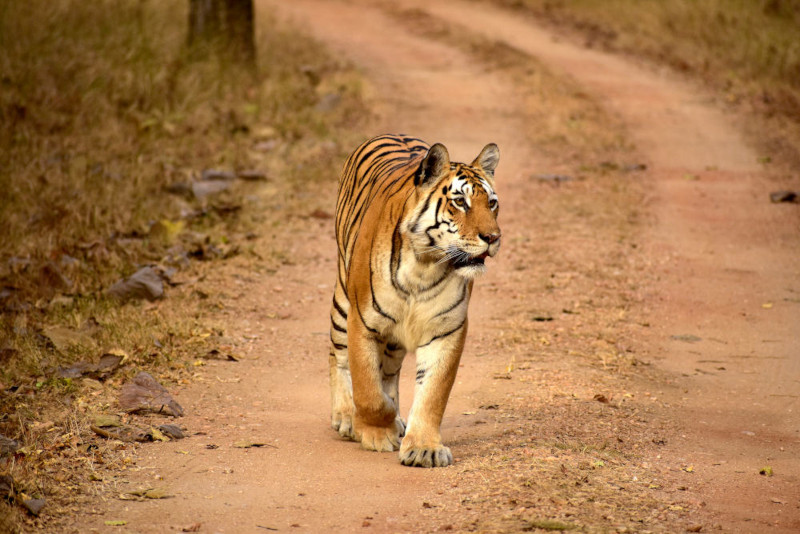 She and her siblings were raised under the continuous watch of the Trunk Cameras that were tied to forest tracking elephants during the shooting of BBC's exceedingly famous documentary Spy in the Jungle.
But Collarwali has also earned all her own fame and adulation. She has been more than a true and worthy successor to her mother Badi Mada who herself had given birth to 19 cubs in her 12 years of motherhood. As of 2021, Collarwali has given birth to 30 cubs in 8 litters. Officials maintain that she is the only known tigress who has been recorded to have 26 cubs in the wild.
Unfortunately, her first 3 cubs from first litter in 2008 didn't survive and died due to pneumonia during the harsh monsoon rains that year. In October 2008, after the monsoon, Collarwali recovered to produce her second litter. This time four cubs were born, three of which were male.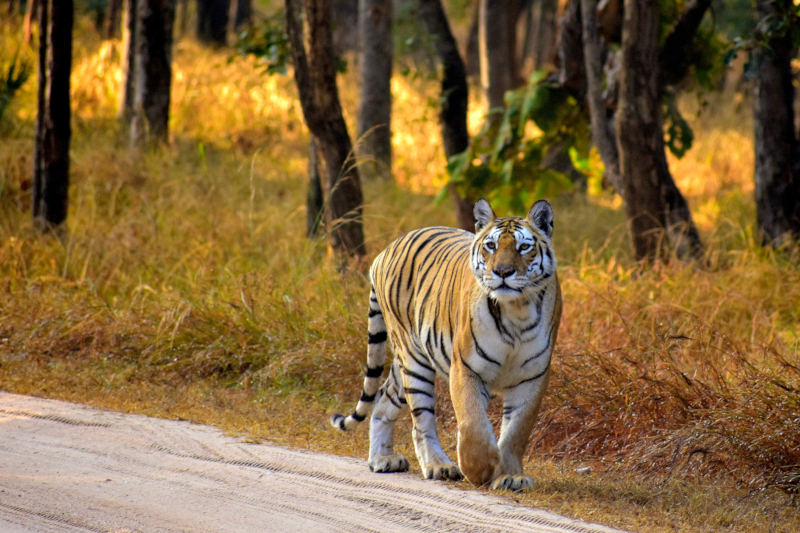 On July 6 and 7, 2010 Collarwali mated with T-30, the very tiger from whom she had to protect her cubs from the previous litter in October 2008. Her third litter on October 23, 2010 consisted of five cubs- a very rare occurrence, with four of the cubs being females. In May 2012, Collarwali again gave birth to a fourth litter of three cubs.
In 2015, the tigress gave birth to four more cubs in its sixth litter. Her 7th litter was first seen in early 2017. Due to her prolific record as a mother, she is also known in the local language as Mataram (Mother God)
It is believed that most of her litters, at least after 2012, are the offspring of the dominant tiger called Rayyakasa Male, who is also called as 'Sula', after the famous wine brand, due to a wine glass marking on the very bottom of his body. Older litters are mostly from the male tigers T30, and also from another male known as the Chhota Male (T2).
Incredibly, tourists visiting the park on 27th Jan 2019, discovered that Collarwali had given birth to a record eighth litter of four cubs.
Tigress Baghinala
Baghinnala female Collarwali's other siblings have been famous as well. Baghinnala female was Collarwali's sister from the same litter of Badi Mada. Established her territory partially overlapping Badimada's on the fringes of the Karmajhiri range, and was first seen in February 2006. T-31, one of Collarwali's brothers, finally settled in the Pench Mowgli Wildlife Sanctuary. Other brother. T-17, was last sighted in the Pench Tiger Reserve in September 2009.
She was called Baghinala as she lived close to a nullah (watercourse). Though she was a bit shy, she was famous as well and, in her time, had given a lot of good sightings to tourists visiting Pench. However, one of the worst tragedies happened when she, along with her two 8-month-old cubs (out of four) were found apparently poisoned.
Our Upcoming Trips to Pench
Tigress Langdi
Langdi (lady with a broken limb) – This tigress is a popular one at this park. She has a vast area under her and walks almost as if had some injury on her limbs. She doesn't fear the jeeps or the tourists and is a delight to watch. She bore 2-3 cubs few years back. 2 of them reached adulthood. As of January 2019, Langdi tigress had another litter of 4 cubs.
Patdev Female
Difficult to spot, walks away of human activities.
Patdev, Born in 2010 to Rayyakasa male and Collarwali female from her 3rd litter. Patdev took some in time in landmarking her area and settled in the north-eastern side of Kalapahad temporarily. After some time her Aunt Baghinala Tigress who was settled in the south-eastern area of the park, suddenly died of poisoning.
As she covers a pretty big area of about 30 sq km, covering Baghinala waterhole, BondwalDogri, Alijhod Nayatalab, and Bodhanalah makes her one of the strongest tigresses in the reserve.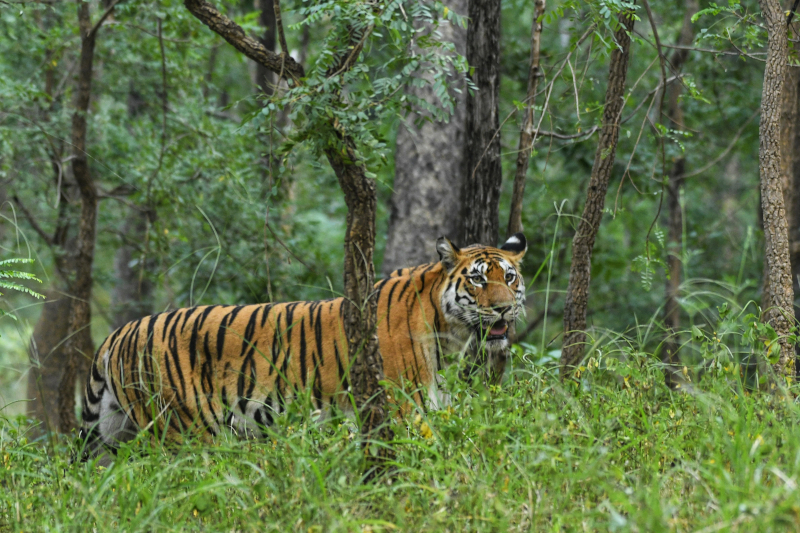 Rayyakasa Male
A male in his prime and arch rival of the BMW, he has succeeded in establishing dominance in the Karmajhari range. Initially shy and reserved, he gradually got used to the tourist traffic and was seen more frequently in the last year. He was named 'Sula' after the famous wine brand, due to a wine glass marking on the very bottom of his body. He has been a constant mate of Collarwali, fathering at least three of her litters
L-Mark Male
Born in 2016 to Langdi female and Rayakassa male is ruling the other half of Pench tiger reserve. One can easily identify this handsome male by looking at his left cheek which clearly shows the L mark. He is one of the Dominant Male tigers of the park who took the territory from his father Rayakassa Tiger, which includes, Junewani waterhole, Bijamatta waterhole, Salaitek and Pyorthadi rocks.
Our Upcoming Trips to Pench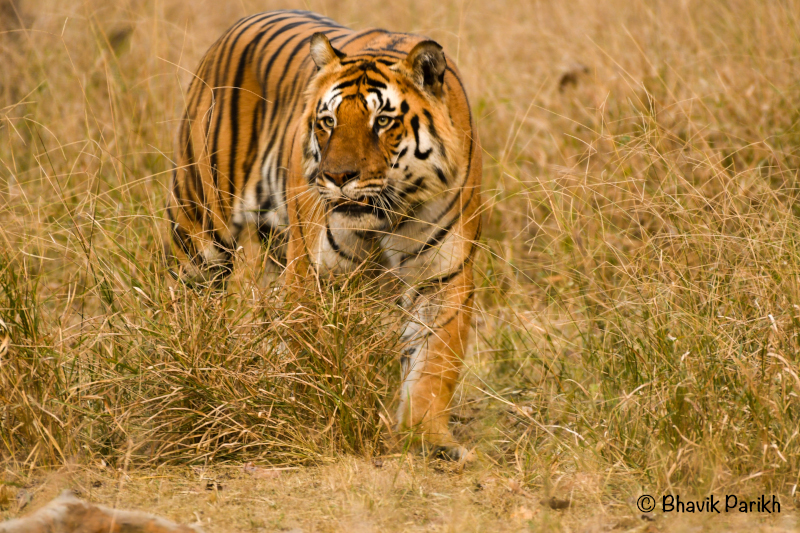 Tarzan Male
Another massive male of this region. He is one of the cubs among that littler of 5 cubs of the famous tigress Collarwali. He grew up fast and massively. He learned the hunting skills from his mom faster, and he even hunted big stags when he was still young. This massive male tiger had a big territory. He is mostly in the northern side of the park. He too fathered to some cubs through different tigresses around his territory.
Durga
She is hopefully one of the cubs of the tigress Baghinallah. She moved towards a new area little closer to her mom's territory and established herself. Her two cubs from the first litter are now the stars of that area. Her second litter was 3 cubs, a male and two females.
She and her 3 cubs were happily living until one day a new male entered into her territory and killed the male cub. In couple of days, she lost a female cub too. Then immediately she took her remaining daughter and disappeared for few months. The daughter has grown up and now both of them came back to her territory.
Each trail can be customized as desired.  So Let's embark on this journey to discover the vast variety of beauty that nature has to offer.
Click on the Destination tab below to Customise your Trip
Subscribe to our Youtube Channel for More Videos on Jungle Safaris in India & Africa