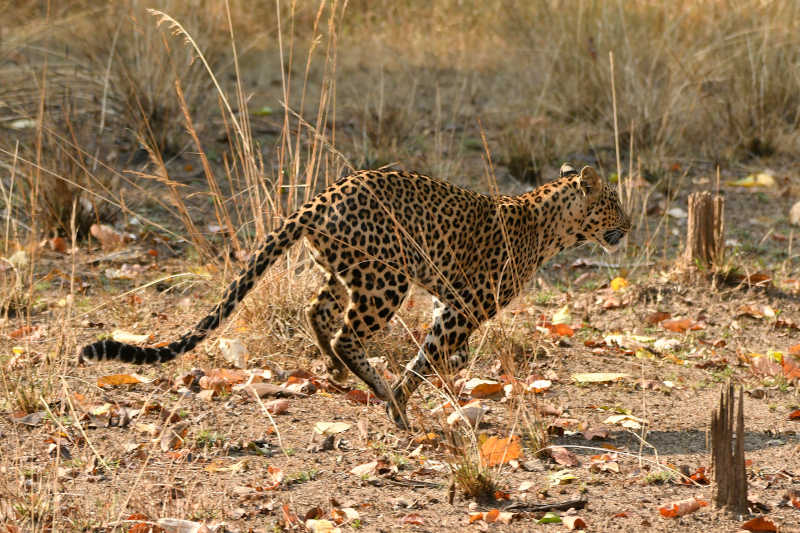 Jhalana Safaris !
September 2019
Monsoons bring a break to jungle safaris as majority of the forests in India close for tourists / wildlife enthusiasts. Jhalana comes as one of the most convenient option/getaway for wildlife addicts as this forest doesn't close even during monsoons and is a haven for leopards and even birding. Like Sanjay Gandhi National Park (more popularly referred to as "SGNP" by Mumbaikars), which is situated right amidst the concrete jungle of Mumbai, Jhalana Leopard Reserve also is situated right in the middle of Jaipur city. Hence, it is extremely convenient in terms of travel or connectivity. If in Jaipur, early morning 3 hours are easy for opting here for safari experience.
There is a picture gallery close to the entrance of the main gate to the forest. Stepping in to see the displayed pictures can prove to be truly motivating and inspirational for some record breaking clicks. You know exactly the potential of what this Reserve can offer. One of the most interesting charts displayed in this gallery demonstrated the names with the mug shots of the then dominant male and female leopards. This is a brilliant ready reckoner for Ids on a sighting.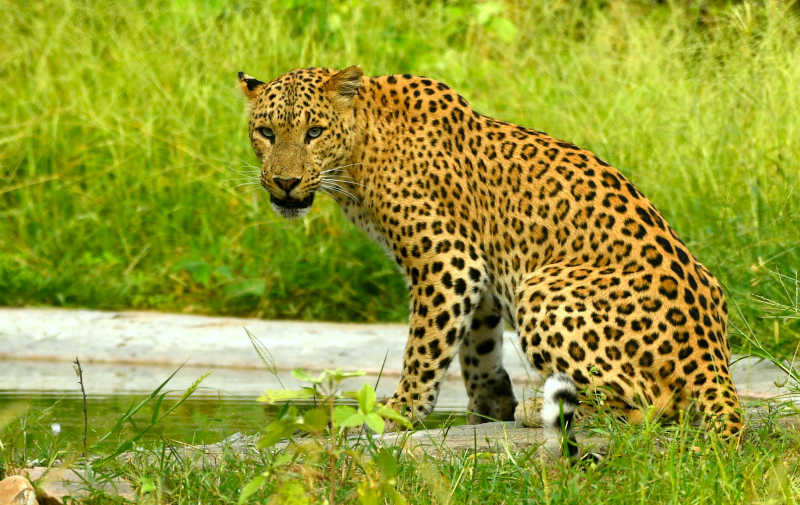 There are two zones locally referred to as "Route 1" and "Route 2".  There is an ancient temple near to the main gate of the forest popularly visited by the locals. Private cars access is permitted for visiting this temple by devotees. But safaris are permitted only in the forest gypsy. It may be noted that as on date there is no canter facility available in this reserve. Both routes internally connect through a hilly patch.
The forest screamed GREEN from its every nook and corner in this season. The lush green pictorial landscape was a treat to the sore eyes and feast to the lungs with abundant oxygen supply. Unlike many forests where the safari usually begins with the sighting of spotted deers, one will witness a lot of "Nilgai"  instead. Peafowls and peacocks are in very good numbers.  Both are the major source of alarm calls for tracking the majestic wild cat (leopard) and its sighting. Langoors in patches of the forest show up in good numbers.  The gypsy drivers are very skilled in spotting the very elusive cat while making their way through the high and low rough mountainy forest terrain.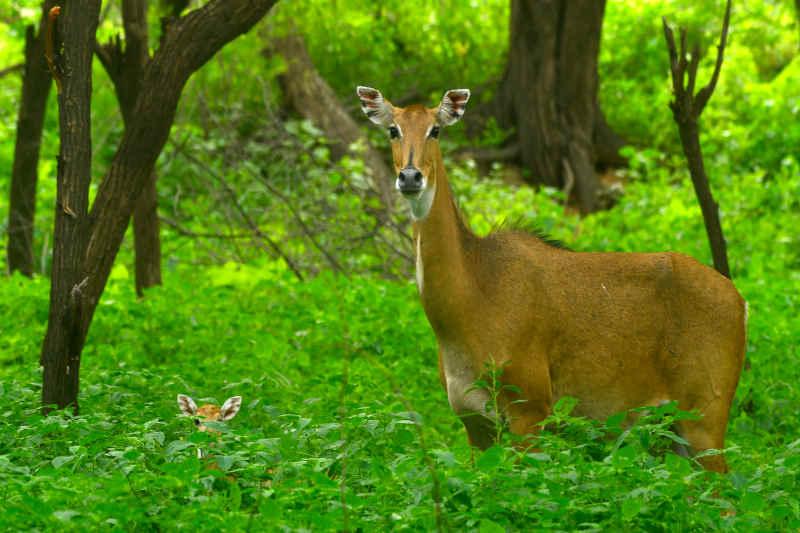 There were 5 safaris in all that were scheduled. First one was more a warm up and acclimatize kind. Not much of action on the elusive cat front but good birding. Amongst other birds, we got an amazing close sighting of shikra (a medium sized bird of prey) feasting away on its hunted prey. This was clearly the highlight of the safari. One of the most important advantage here is that due to its hilly terrain all bird sightings are at eye level. Needless to then state, that it offers a great photographic opportunity!
Second safari began early morning. And began our chase to sight the elusive beauty the reserve. This reserve was anticipated to be a home to close to 30-35 leopards. The forest is spread over approx. area of 23-24 sq. kms.  Within a small area, such good leopard population makes Jhalana Leopard Reserve comparatively a better option to spot the elusive cat in the wild. As the gypsy made its way from water hole to water hole, suddenly a huge male leopard was spotted springing away its way after drinking water, running away from the vehicle. It had the speed of lightening. By the time our gypsy made way to the crossroad expected for it to come out after it disappearing in the bushes, the giant beauty had already covered ground and had reached the spot. Few clicks were managed before it bid good bye disappearing in the lush green tall jungle carpet of wild bushes.  It was then that the chart of the photo gallery came handy for us to identify the just witnessed male leopard to be "Rambo".  A few more turns and keen listening guided the gypsy to some more alarm calls which eventually lead us to the second cat sighting ! This time it was "Sultan". Sultan was a little bolder than Rambo and gave the cameras much better captures with broad day light crowning like halo. And emerged our gypsy victoriously outside the forest gate with the content of two exclusive sightings of two different dominant male leopards. While another gypsy of our guests spotted a hyena.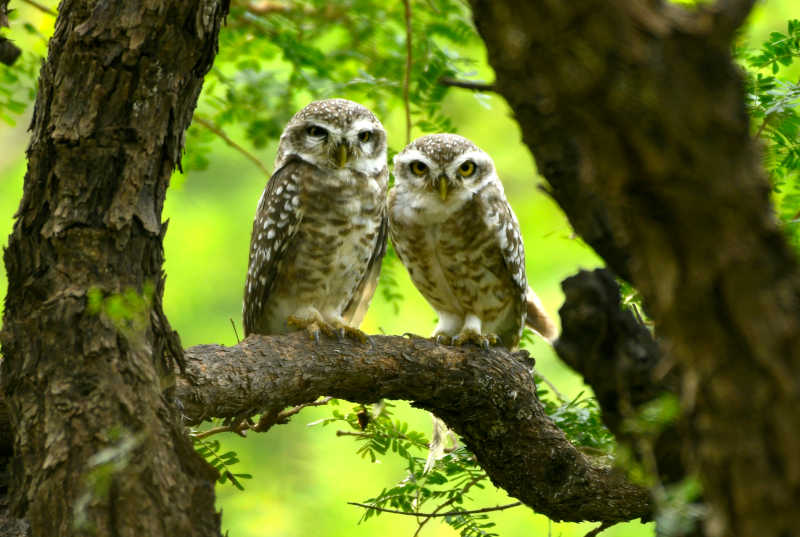 Third safari again began with chasing foot prints, following alarm calls, assessing intuitions finally leading us to "Nathwali", a dominant female leopard, peacefully gulping water and graciously making its way into the forest without any panic or shyness. Our guests had similar sighting of "Leela" at another waterhole. Yet another gypsy caught a glimpse of two other leopards. So that safari it was raining leopards.  Talking about rains, after a relatively birding driven fourth safari, fifth one was almost washed away by the rain. But the skillful driver promised a sighting on the last safari for us. Rambo obliged our driver's promise. He showed up walking through tall bushes getting drenched in the rain.
Fourth safari had marked distinct calls from Nilgai that we followed and kept up with it for a very long time. "Flora" was the estimated female leopard to be reason of those calls. Like the world famous tigress "Collarwali" of Pench National Park, this female leopard is very popular for her boldness and maximum number of litters. Fourth and fifth safaris were spent considerably to locate her but were in vain. She remained elusive for us but did show up a little glimpse to two different gypsies at two differ occasions.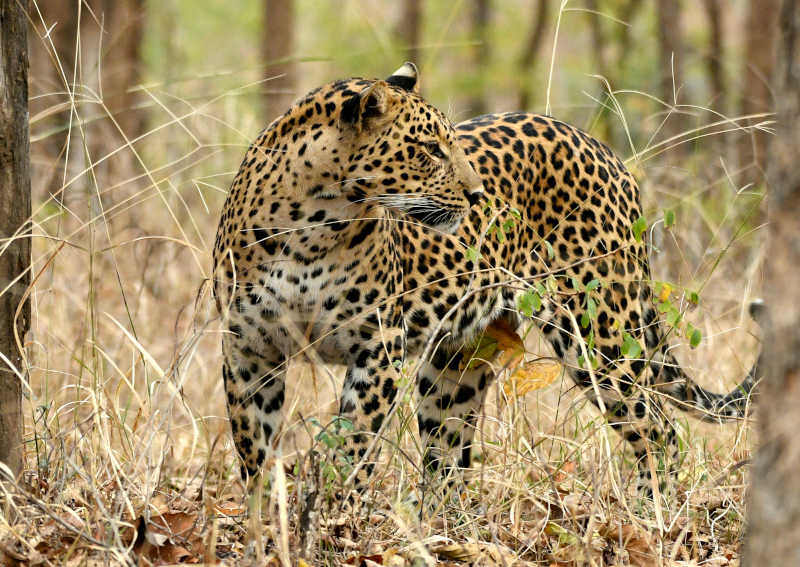 So, 5 safaris, 4 different leopards (2 male, 2 female), 6 sightings,  25+ species of birds at eye level, lots of peacocks dancing, mammals and tons of oxygen concluded the Jhalana Leopard Reserve safari spell to be a rocking successful one. Flora, see you next time !
For any Further Inquiry please feel to write us at booking@jungletrail.in